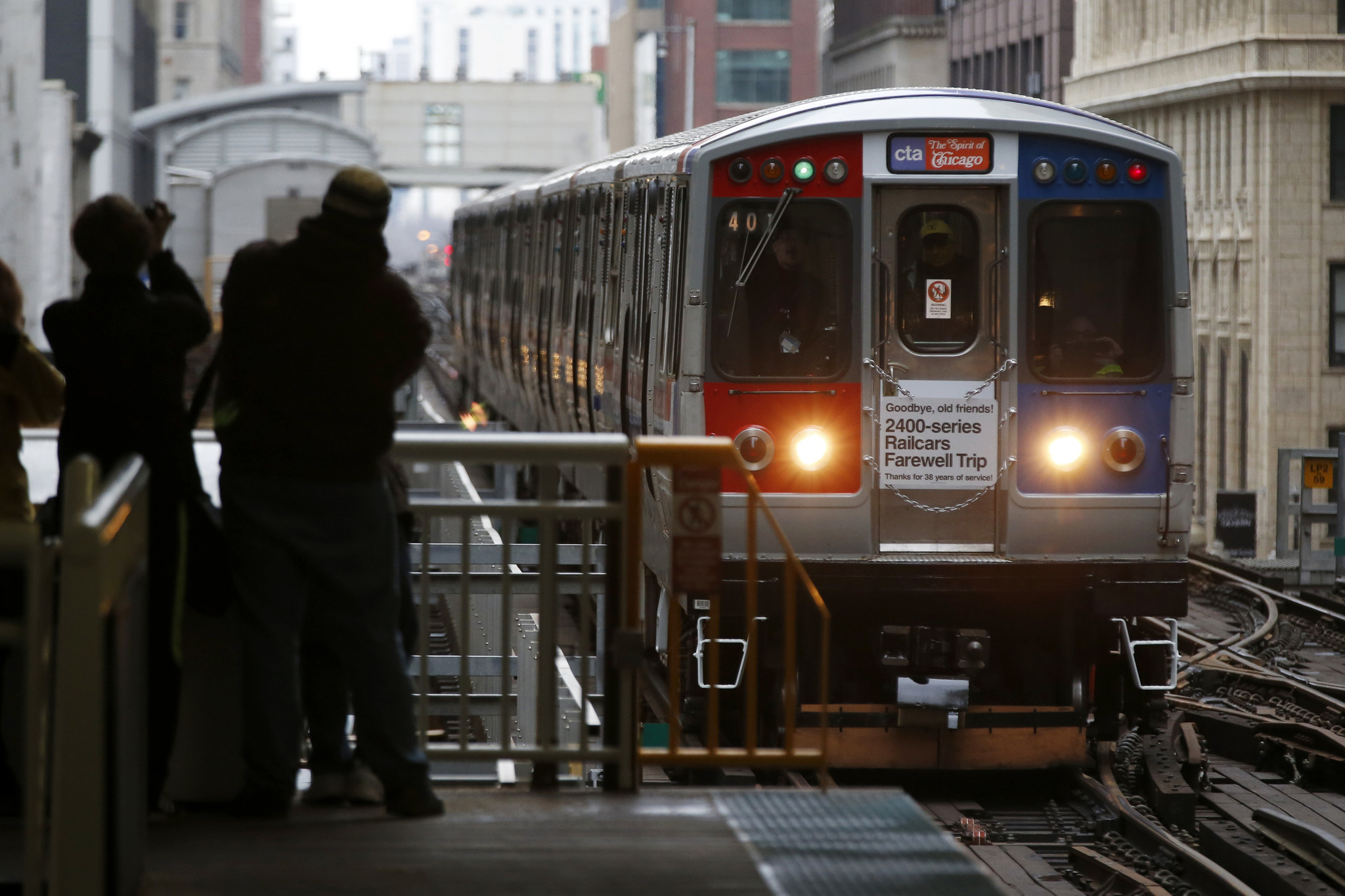 Content Count

10998

Joined

Last visited

Days Won

358
Everything posted by BusHunter
There was a bus broke down on the tri state yesterday. Looked like an outbound #395 to UPS. The minuteman were working on it and everyone was still on the bus.

You guys lost me too. Transit agencies will always need buses. As long as you don't make a bad product like Boeing you are ok. Now they are the ones that could lose work. Airbus is more fuel efficient. Some airlines have ditched the Boeing's they have for airbus'. This 737max was a big mistake for them.

Still a few rail closures like Clark/Lake upper and lower, State/Lake upper and lower, Jackson, Grand and Chicago (Red) Probably some like Clark/Lake are due to damage at street level stations. Don't know about the other ones but they were in ground zero territory. Trains are running. Still talking about a curfew tonight.

So I wonder what happens after west gets another 20 buses? It will be going into surplus territory. I suppose west could lose a few eldos and the garages they go to like sw or nw could send a few more of the newer eldorkos to start retiring the oldest eldorkos. Do you think some eldos could go to nw and they would be retrofitted for Pulse or do you think they will get Pulse new flyers cause the time is here at least for them to pick up the buses.

Things may get back to normal tomorrow. They are lowering the chicago river bridges downtown, the exit ramps on the expressways are opening. Cta says it's going to resume service with a couple snags still. Tomorrow sounds like the big chicago dress rehearsal. Tonight was pretty quiet as far as looting. If only we can get through tomorrow we may get back on the right path.

Pink line according to the CTA website has been suspended. Probably cause of cicero.

Good luck with uber. Its surging hard in three quarters of the city. But unemployment pays more. I've been lightly working myself at the bus company but I haven't ubered in a week and a half. Any charters I take are voluntary so I can work to my limit. The way things have been I dont know if I want to travel the city unless I'm in a bus. I heard that any Pace bus operators that drive during the curfew get paid for hours scheduled they cant work. I assume the cta is the same way. If they are 3rd shift they essentially have a free weeks pay. I dont see things changing this week.

It's probably bad to be on the routes that rim the closure cause everyone who wants to cross the rim is forced to ride the rim routes like #47 and #74 and #49. Those routes must be crazy crowded

Well I was on the tri state (I-294), I notice this Xcelsior behind me so I slow down let it pass me damned if it's not a Boston Xcelsior!! I took a couple shots. I guess there may be pandemics and protests but life goes on. The bus had to travel through minneapolis, probably went down 294 to get away from chicago. If it would have went down the kennedy it might have ended up in oz the way our city has been the last few days. It's been through alot already, but the Ohio and Penn legs are huge. I drove to Niagara and it takes all day to go through those states. Thought you guys would be interested.

No it's not. Lyft is paying attention to the curfew, no rides can be given by drivers here in Cook county. Uber you can still use. It was surging heavy last night in the whole city, but I didn't turn it on. I like my car!! Lol!! I did work my other job today driving the UPS workers from 95th/red line to UPS at 5pm. . Saw no buses at 95th/red line. That was surreal!! There was heavy looting at 95th/halsted at a beauty supply place, cars coming in and out, people going in and out. It really was a free for all. A few broken windows, the walgreens at ashland got hit but the police were there. Can't have Beverly go up in smoke. The currency at the ryan was hit as well as a doctors office over just west of wentworth. Don't get that one. I was supposed to work Chicago heights at 11pm but ups canceled the route. I had a problem there last week, some youths were throwing bricks at everything people the terminal, my bus. I picked up a few people from the terminal cause I was doing an #890. Told them I'll take them to harvey transportation center because these kids were assaulting people. So I got out of there. Unfortunately I got a gash in the back of the bus. My Supervisors know, so I wasn't really inclined to repeat that. Got a big surprise on the tri state, I'll post it under another topic.

I think the major reason they ended up with a surplus is remember when they shut down the red line from 55th sourh, the #4300's were bought around that time and I remember most of them were used for the shuttles. Now they have no need for that and they ended up with a surplus. Still though I dont see the point of buses sitting around when they could be out on the #53 or the #20. I dont get the #54 so much. Remember when they ran those alot on the #66 or the #82. I thought those routes worked good because alot of times you would have to rub up against your co rider to get off the bus. The bus being bigger was way more spacious and balanced. I was thinking about how the ryan and the how red line is going to change after the RLE gets built and that may be happening soon. 103rd at one point only needed 217 buses for service if you cancel out buses what will become of it. Would you have a garage for 150 buses, but I see 103rd moving operations north and maybe doing routes like #87 or #4 because the garage is not to far from the east and south terminals. Where cta really lacks is in the middle southern area because there no archer garage. 77th and 74th could step up there. One reason we have the #94 with such an unbalance service is because theres no mid city garage like Archer. Lawndale becoming Chicago garage took away from that same area so it lacks now. We wouldnt have these crazy pullouts like #54b out of chicago if the area was served better. Can help but think about the pullout miles. Maybe one day this will be addressed. The Stevenson corridor has lots of land and it would be easy to base a bus operation there. We shall see

I just dont get why they dont put a few artics here a few artics there and mix them with the 40 foot buses. There are alot of routes that could use artics, and not running them on 63rd is no excuse because you could put a few 77th operators there. The yard is 14 blocks away..alot of south side service is getting heavy ridership. I have seen this driving out there. Where are the #4 artics 63rd and cottage is busy. The #55 couldnt use artics?? If indeed they are sitting around that's a royal waste. Those buses are hybrids for the most part they are saving gas. Why run junky #6400s, that makes no sense only to parts dealers. Long ago they had a good plan with short buses but bought from the wrong company. Take a page from Pace they are running alot of divisions on 30 foot buses. Cta could be saving that money. The #48 doesnt need a 40 foot bus. The #43 or #31 dont. The #55A dont. The #68 or #88 doesnt. Spreading buses around the city and usng them according to ridership is smart. Well have to see what happens.

Surprised to hear #22 is losing artics. That route has pretty good ridership. So hopefully they are adding service or that route will be fubar. Once everything opens up they may have to modify this pick. #146 without artics will be a joke at normal service levels. With the street closures for the open streets, theres going to be a few problems. One of the biggest will be the Broadway closure between Belmont and diversey. I think that whole area around belmont and halsted will get heavily gridlocked. Belmont is backed up now west of broadway. The #36s will be late, the #77s will be a disaster and the #22s with no artics will be close behind. Anything that goes to belmont and halsted like the #156 will be affected too. The riders are smart up north I see them flocking to marine drive and downtown or along lincoln park they will ride the #22. But then again 26th street is going to be an interesting closure also.

I got a question that just has popped into my mind. As part of the VW settlement it says that Pace will get 6 CNG buses. An article that i'm linking says that will occur in 2019. Now my roster says the cngs at south are 2018 models. The only 2019 models out there are the NF's. So have these buses been counted already? I notice my roster has 94 cngs but the press release mentions 91 cngs. It also goes on to say cta will get 3 new electric buses, (on top of what they ordered???) and metra is getting 8 new engines. So what's up??? (Pace press release) https://www.ngvamerica.org/2019/02/13/pace-named-chicago-area-clean-cities-clean-fuels-champion/ (Chicago press release) https://news.wttw.com/2018/12/04/vw-settlement-illinois-awards-19m-cleaner-bus-and-train-engines

#130 is actually taking you to the forbidden zone which is east of LSD. So it promotes naughtiness. Besides the museums are closed. The #10 and #130 dont make sense to run now but the #124 dont make too much sense either. At least someoner can use it downtown.

Its news to me. Theres been so much talk about corona, we forget theres still a whole other world out there to explore.

You know how when cell phones came out, you had to charge them all with a cord, and then we came out with the wireless charging pad. The technology exists to do the same with electric vehicles charging with a pad in the street. They have been testing this technology now for 10 years, and they claimed to have run a test at Logan airport. It's interesting no moving parts, no towers to get electrocuted, just install a pad in the street an older video talks of putting charging strips in the street. Its definitely interesting to say the least!! This is a newer video https://www.youtube.com/watch?v=36uEDbRwVqI This is the older video, it talks more about the technology, they claim the technology can be used for trains that are electric. https://www.youtube.com/watch?v=lrnpvGyAX8o They claim BYD is running a pilot in Washington using this technology https://www.youtube.com/watch?v=iioVJMbzfVk

Looks like the RLE has moved to the next level. https://news.wttw.com/2020/02/10/long-awaited-cta-red-line-extension-moves-forward-new-38m-contract

Nothing has stopped cta from cutting service so far. Was reading one of the transit covid 19 aid bill's is slated to give cta between 700 to 800 million so there not hurting too bad but the transit agencies thinking is that they will not receive any more aid. Pace got like 400 million and metra got 300 million. I think that's one reason they are cutting while they have money its half what cta got or is getting. I was looking and I dont see any suspensions of service for the #130. Now Chicago will you please turn on Buckingham fountain!!

On thursday I was coming down I-55 and there was a broke down MCI on the exit ramps WB at 1st avenue the wrecker was there working on it. Couldn't get the number as I was driving my bus. At first I was like damn the minuteman for IDOT are working on it but it was a yellow Pace wrecker. They look almost identical. I wonder why the wrecker is not blue. Unless its yellow so it shows up. Pace was painted in light blue on the door. Should've at least put the wrench symbol on it because that wrecker is Mr goodwrench!! Lol!!

Maybe it's there so when you get passed up you know why. Yeah no route number just bus full across the top center.

Saw a sign on the destination last week that said bus full. Is there new signage pertaining to Covid-19?

40429 was out yesterday on the #330 and today at lagrange and cermak we had a broke down Xcelsior. Triangles were out on lagrange. It was #40407. You know I havent seen that bus until today. Maybe 7 is unlucky this time. It's not just 13!! Lol!!

Saw #20427 and #20426 out and about here at west. Seems like the NFs are coming in pretty fast.

Theres always something happening over there on the Ryan. About 2 weeks ago I'm deadheading my bus from 95th/Red line, and I see this big puff of black smoke the closer I get I see huge flames pouring into the sky this was on 83rd and Lafayette so I'm looking more closely and it's a minivan or small suv parked in front of someone's house. So I go further up and the state police had the 71st exit all roped off and there was a bad multi car accident there. This was all on the sb side of course. It looked like a possible hit and run and the runners vehicle caught fire. It could have been 2 seperate incidents though. The ryan traffic was destroyed though stopped until Garfield. I can only imagine what it would have been like it people weren't quarantined!!