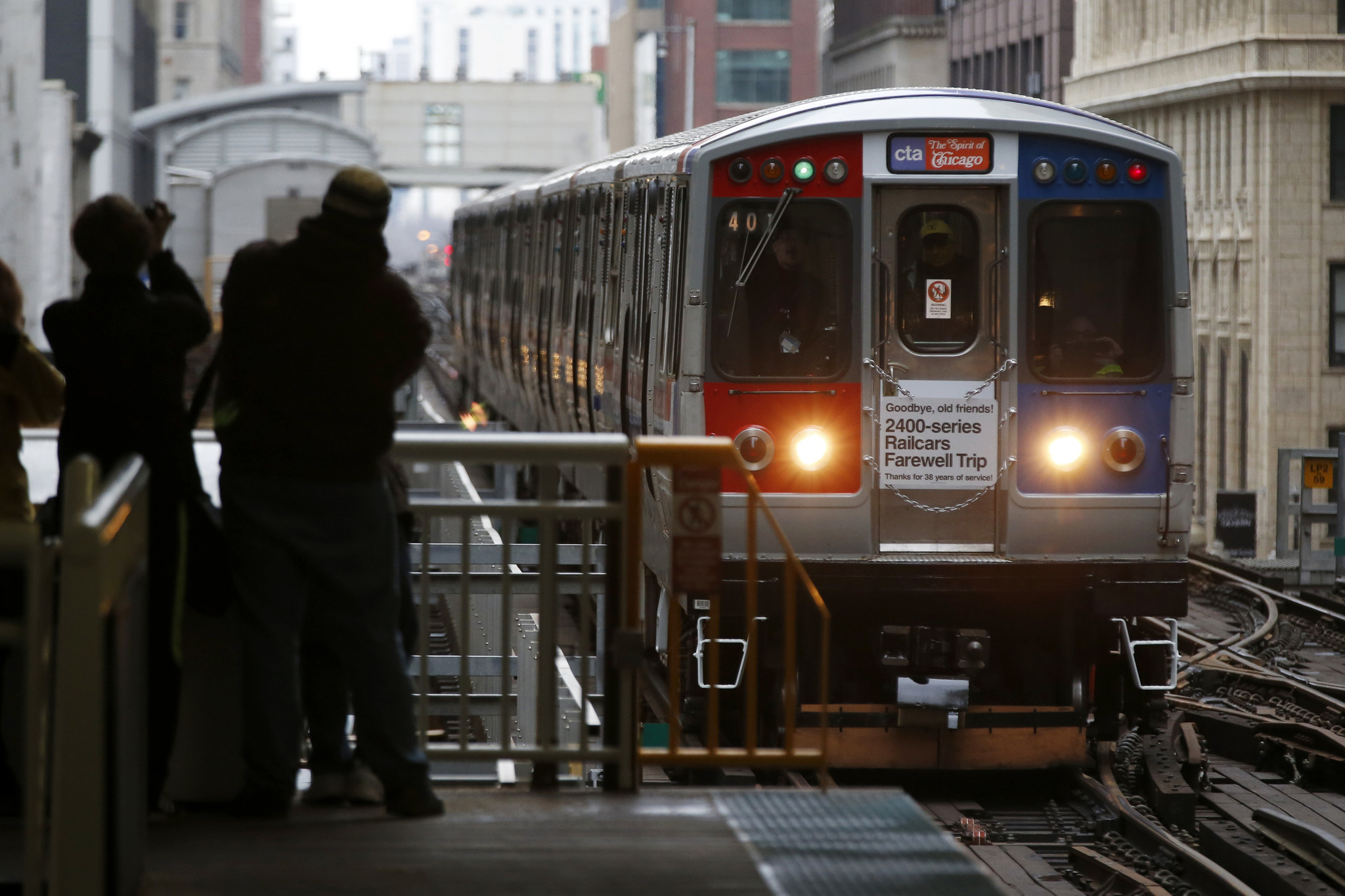 Content Count

11117

Joined

Last visited

Days Won

362
Everything posted by BusHunter
Might as well passenger levels are horrible. Many of the metra stops dont even have one car in the parking lot. You pass lines like the bnsf and the UP's and your asking yourself in rush hour where are the trains??? No kidding at 5pm not one train on the racetrack. The only thing racing are a few mice here and there!!

Is there a university/private school only paddle?

I don't get it, zooming up the picture shows the bus only goes to the length of the wall it's protruding through. There's like one aisle of seats passed the wheel well and that's it. So I wonder why they would go and acquire the bus for that? Kind of interesting, CTA was going to sell the #900 buses to an electric bus rebuilder, CCW, and the deal fell through. I wonder why then they wouldn't step up to the plate and rebuild the buses themselves for that purpose. They could try it out. It's cheaper and you would have extra buses to run. They could easily do a complete 63rd and Chicago electrification of buses and see at the same time is this really viable? Just think they could have 32 electric buses.

There still people using it whether it's a trainer or work bus.

Well I guess cta dont have to worry about cps school runs. Looks like cps is going remote. Theres still universities and private schools. How will it bid those cps school runs out? They will run anyway? This is going to be really messed up. It's hard to plan when the plan keeps changing.

Could be. Nabis were being assembled out there because cali was where alot of the nabis were ordered. So they would have the facility to build. Its nf 's call whether they choose to build but if any parts come from overseas there is a port in california. That's probably why BYD is out there.

Yeah I think you figured it out. Thanks. So those would come out of anniston? Isnt there the California ex NABI plant. That's a long drive unless anniston has something the cali plant dont have.

Yeah it does look similar. Are they ordering Xcelsiors?

Saw a xcelsior yesterday coming north on the tristate around 95th. It had a dark blue bottom with a foot wide stripe of a lighter shade of green with the top half of the bus white in color. The blue and green was in a wave like a dart bus but not as wavy. Cant seem to place the bus.

We haven't heard of a CNG contract either, So I don't know what that says about the garage. Seems a little far from the action at NW, but they are banking they can use the tollway, and I do mean banking!! If all those buses would have to pay a toll your talking in the neighborhood of 500 bucks a day in tolls!! Maybe 750 if half come back after morning routes!!

I adjusted the cta bus roster, added #4037 SS to 77th, #4332 SS to 103rd, #6679 SS to FG, #1719 NP to 74th. That's all the changes I could find.

#6679 was dead at milwaukee/addison tonight. The 992 was revving the engine on the bus to get it going. They had brought a new nova for the operator. I had a smile on my face thinking that it might be a broke down old bus but it's got good ac. Better than the new nova anyway. If it was hot I would have told the supervisor can I keep the old bus? Just joking. 😆

They talk of having land for the cng facility. I wonder why when they built the dundee out station garage they didnt go with cng. It seems small, it would make a good 2nd test. Maybe there is no cng highway edition Eldorado. But I'm sure they could monkey with the specs to make the customer happy. Also it makes you wonder why they wouldnt order the new nfs with cng. If it's only 50k more a bus that's not bad. I didnt know they were that cheap. You know if the laws in the state said not that we would have to go electric but alternative fuel like cali is now. I think it could be doable. They havent yet said either but I think it's coming soon. Kind of cool, last summer our bus company where I work got some cng buses from LA. ( Not at my garage though.) They borrowed them to us because they belong to a chicago division because the buses were a little bit smaller than our 40 footers. I think they were 30s. We usually do a summer charter contract with some campers and our pickup lot was small. Drivers in previous years were snacking fences etc. So one day the buses were low on gas so the only way to fill it is get to the cng filling station at the home garage in chicago. Well I got to fill up the bus. It was cool it wasnt like gas where you stick in a nozzle this had clips on it that held it in place on the outside cause it's an air system not liquid. It didnt seem unsafe at least no more unsafe than diesel. The buses still run today at our garage in the city. All our suburban garages run the diesels.

Was reading an informative article about these buses and why Pace went to CNG. Very interesting. It also explains why they are in Highland pk. CNG's do sound kind of affordable. Too bad CTA is so skiddish on that technology. They could have saved alot of money. https://chi.streetsblog.org/2018/05/19/why-paces-diesel-electric-bus-pilot-was-never-expanded-beyond-highland-park/

I wonder why they put the license plate on the bumper of the #600's. When that pops off, (the bumper should be in 3 sections) that license plate will pop off with it.

Yes it was albino before. According to Andre, it was rehabbed to the Phoenix model specs. Grand Rapids had some this was done by a company in Michigan. The idea later became the nova classic style, with an older style bus marrying a new style bus.

#4315 was at SS tonight on the 79th fence but I think that was the only artic up there.

Actually #9532 started it all as far as the oldest bus, but #9974 was the first chronologically. They were close. I remember #9532 in the early 90's and #9974 around that time as well. I want to say late 80's, but buses were not painted in the red, white, blue livery until I believe 1989 at the earliest., Maybe Andre could tell us for sure.

Ok, it just hasn't moved lately. BTW, I straightened out the retirement roster so it's a little less confusing (organized stuff) I included Youngbuslover's dates list. I'll give Youngbuslover credit for his info, thanks guys.

#6867 and #6687 are back at the glen.

You didn't see #4080 around SS did you? It's been missing and I wonder what happened to it. You know if you go to the RTA equipment page (here's the link below) and you click CTA equipment they claim there are only 97 #4300's. So if you subtract #4323 and #4333 what's the 3rd one? It would seem to be a hybrid. I'm starting to wonder about #4332. Did it show any signs of it possibly being retired. I could be wrong, once #4327 was oos, don't know if it ever came back or not. The #600 at least has license plates, but it's been around just not in service. Somewhere along the line they'll need to wrap it, but it's probably just there for the mechanics to learn from. RTAMS rolling stock fleet list: http://www.rtams.org/rtams/rollingStockForServiceBoardAndMode.jsp?sbID=2&mode=MB

They have a live video link to the 79th/Damen accident. All I can say is that operator must go to church. the light pole caught the suv and the other car missed the bus. Incredible, but not so incredible for a cta mobile truck that was sitting alongside the bus!! https://abc7chicago.com/cta-bus-crash-several-injured-mult-vehicle/6334401/

It's just getting a bad rap right now. 63rd can be pretty hardcore too. They were over there protesting at the police station the other day and I dont care for the corners where the L stops on east 63rd. Always a crowd there. One of my routes goes down 79th. It doesnt seem too bad. Got to see St Sabina. Best looking church on the south side outside of hyde park. Only problems I ever had over there on uber were at the housing projects around 87th and the east end. Had a guy get in my car holding a baby, child custody thing. Guess he was taking the child from mama. I had the police stop me from leaving. They asked me who I was. I felt like telling them I was the getaway driver jokingly cause in a way I was but I figured I shouldn't joke around so I said I'm uber. So it was cool. But the guy had to hand the baby over and then he was ranting to me. I tried to pacify the situation but I'm thinking dont mess up my car cause your mad. He got out and I was done with that neighborhood. But I've been back over there since. Just a bad experience.

Could have been going to. Cummins or south shops maybe it was on a slow order because it couldnt travel on the expressway. I actually took a broke down bus once with an van escort from my company to crest hill. The mechanics didnt have parts or facilities to do what needed to be done at my place so I was offered the trip. The bus drove hard suspension seemed to rub the frame when you braked. Bus was pulling to the right. Also it had no power steering or very little power steering. I was glad to get rid of it. I told my bus comrade if they see any smoke or anything unusual let me know. I dont want to be responsible for a bbq bus!!! It's pretty cool when a bus breaks down the mechanic comes out with his laptop and plugs it to the bus. The bus tells him what's wrong. I was stranded once on an old bus I had offered to trade my bus because the bus broke down it was needed for routes and I was pulling in. So the mechanic without lifting the hood said the torque converter was bad and there were some trans faults besides that. I tried moving the bus, being a bus fan, I remembered seeing the mechanic work on the cta breakdowns in my youth. So I started the bus, gassed it for a few minutes like a cold start and I got it to move. But it died on the next block. Figuring maybe I'm out of my realm I gave up. The mechanic drove it in. He told me hey kid do you know how to drive a manual trans. I said not really. He said you will have to gas it when it idles at traffic lights and driving, it will not go more than 5 to 10 mph. So I rode back in the mobile truck. The guy got it back to the yard so he must be good at his job. It was cool hanging around with the mechanics though. I've learned alot about buses it's been an enlightening experience so far.

It happened at 10am so if you really want to know see which 4000 came off the tracker around that time.